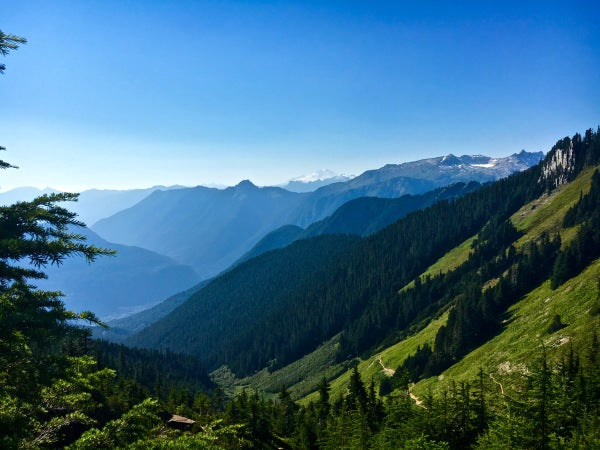 Today I am writing to you from the beautiful mountain town of Yucaipa, California.
When I woke up this morning it was to no running water in my apartment. That meant no cleaning the dishes in the sink, no making my morning coffee or oatmeal, no hot shower and no usual morning routine. Couple this with the fact that the track-lighting circuit in my apartment died leaving me with no main source of light and it was a recipe for an emotionally draining, stress-inducing, tear-filled morning. I have a very set morning routine (which I'll expand on in a later post) that I keep to regardless of the day of the week. If I miss too many mornings, depression begins to set in. And today was the day...
So since my routine was already broken, I left the stress of my home for a place I always feel peaceful: The Mountains!
One of the most effective cures for my depression has been Ecotherapy. Yep, it's a real thing and it refers to any activity aimed at improving your mental health and wellbeing through outdoor activities in nature. A study from Stanford University found that just 90 minutes of time spent walking in nature, as opposed to an urban environment, "showed decreased activity in a region of the brain associated with a key factor in depression."
It's probably where the Japanese tradition of Shinrin-yoku or "forest bathing" originated. The practice basically requires entering deep into the forest and remaining silent and mindful and in 1982, Shinrin-yoku was officially recognized in Japan as a way to cope with and counter stress and fight degenerative illnesses such as heart disease.
As with most of my writings on Performing Arts Medicine, I seem to reference a lot of studies from the UK, which are only slowly beginning to catch attention in the United States. A 2007 study by researchers at the University of Essex made its way to mainstream US publication, "Psychology Today", five years later in 2012. (This is still three years prior to the Stanford University findings I referenced above which were published in 2015!) The Essex University study surveyed a group of people with depression and they found that 90% of them had a higher level of self-esteem after a walk through a country park, and 75% felt less depressed.
The control group, in contrast, walked through a shopping center and only 45% of them felt better while 22% of them reported actually feeling worse! That same study also found that 94% of people believed that contact with nature is what put them in a better mood. You can read the full and expanded study, "Feel Better Outside, Feel Better Inside" that was widely published in 2013 here. (If there are some great studies that have been done in the US that I don't know about, please send them my way!)
Obviously, most musicians live in large cities and it can be difficult to prioritize our time in nature over time working or practicing. However, author Richard Louv published a book called "The Nature Principle" where he gives name to the stress caused by city and tech-heavy environments: "nature deficit disorder." I would encourage everyone to find your closest park or green space and set a goal of walking there for 15 minutes three times a week. Slowly increase the amount of time you spend out in the green space as well as the remoteness of the location. The less city noise, the less stress!
If walking isn't for you (although it really is for everyone!), Ecotherapy includes several areas other than green exercise (walking/hiking/cycling in the outdoors). There's a whole list of ways you can implement Ecotherapy into your life including gardening, conservation and horticulture activities, wilderness and adventure therapy or even working with animals.
And it's possible to participate in Ecotherapy by yourself. While there are benefits to connecting with a group like a hiking club or volunteer garden, you can begin with little steps like growing plants in your home. I have to be honest, I am a frequent plant killer. I just love to either overwater them or never water them. So I just plant a lot of plants. The more I plant, the more opportunities for two or three of them to live and the more positive I feel toward my living environment. I have a very tiny patio at my apartment and it is packed with planter boxes and maybe four living plants...
People who engage in Ecotherapy report that engaging in the practices help them to make use of daylight hours, find reasons to get out of bed in the morning and to nurture and look after things which in turn help them to better look after themselves. It also boosts their self-esteem, reduces anger and reduces anxiety.
With all that being said and the San Bernardino Mountains just waiting for me, I'm gonna go take a hike.
Less pain and more music!
Karen 
(Photo #1 - Where I grew up, in Port Angeles, WA. Photo #2 - Where I live now, in Los Angeles, CA)
Mar 19, 2018

Category:

Blog
Comments: 0